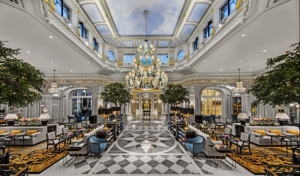 In November 2018, the hotel chain St. Regis Hotels and Resorts has completed a massive multi-million dollar renovation of the St. Regis Rome that is an iconic luxury hotel, opened in 1894 by the legendary hotelier Caesar Ritz.
Located in the historic center of Rome, next to Republic Square and Quirinale Palace, St. Regis Rome is considered to be the epitome of European hospitality. The new look of the hotel, designed under the guidance of the world-renowned interior designer Pierre-Yves Rochon, pays tribute to the traditions and values of this 125-year-old historical heritage, at the same time, refracting the distinctive features of St. Regis Rome in the spirit of the 21st century trends.
Large-scale renovation has affected all public areas of the hotel, such as the lobby, lounge bar, library, ballroom, as well as all 138 rooms and 23 suites. Elegant pastel colors in the design of the rooms breathed new life into them, and the Royal palette of black and gold colors decorated the lobby with its intricate stucco, arched entrances and corrugated columns. The abundance of natural light perfectly emphasized the cream, white and gray tones in the decor of the space. Travertine and bronze, used in the renovation, resonate with the architectural heritage of Rome and its rich history of craft art. In addition, the hotel is decorated with majestic sculptural busts, luxurious fabrics, mosaics and many other art objects. Aristocratic Roman patterns in the interior of the hotel are complemented by yellow, pale blue and shimmering gold and silver inclusions.
One of the highlights of the hotel is the Bottega Veneta Suite overlooking San Bernardo square and the Diocletian baths. After renovation, the Suite is a functional, refined space with furniture from the latest Bottega Veneta collection in the brand's signature shades.